I would like you all to meet Allie, she is the new addition to our family. My cat Callie had seven kitties while I was on a business trip. Allie is the only kitty that survived, her name is a combination of her mom(Callie) and dad (Aladar)names. I told the kids we could keep her, because she is so cute(and I was having some guilt over running over Crooked). Sooooo here she is...
She went right for my laptop...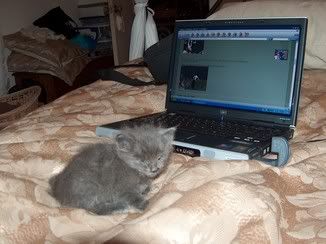 So I'm teaching her young how to blog!!!!!